Image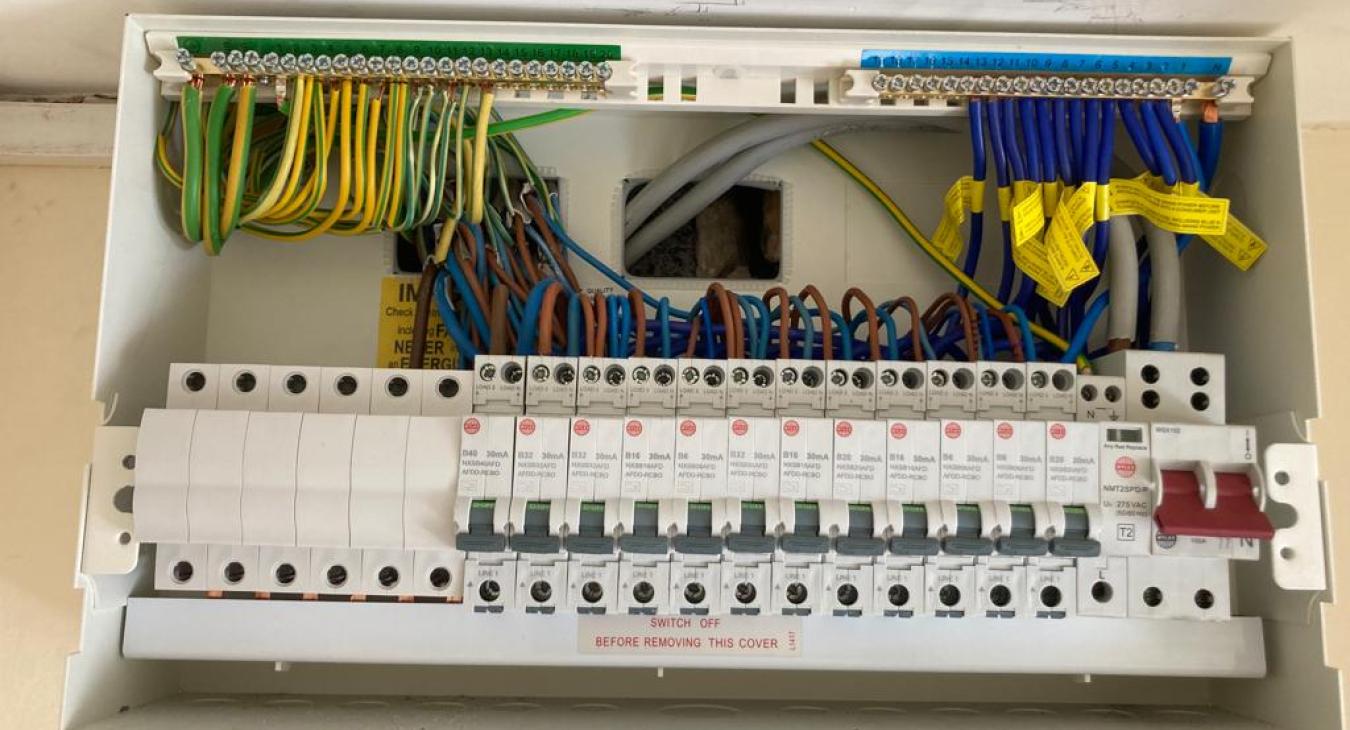 Your fuse board is an often overlooked but highly important feature in your Herefordshire home. 
A fuse boards primary function is to keep you safe from the risk of electrical fire and shock and its importance cannot be overstated. Our Herefordshire based electricians here at ElectricsFixed are often asked "do I need to upgrade my fuse board?" by homeowners who are understandably worried that they are not properly protected. We have put together this guide to help you understand when and why you may need to upgrade your fuse board.
Reasons to upgrade your fuse board
There are several reasons why you may need to upgrade the fuse board at your Herefordshire home. The top three reasons for a fuse board upgrade are:
Age of Fuse Board: The most common reason for a fuse board upgrade is simply the age of the existing fuse board. Over time your fuse board begins to show signs of wear and tear and like everything else, has a shelf life. For a fuse board that has been well maintained this is usually around 20 years.
During Renovations: If you are planning an extension or major renovations at your Herefordshire home then you may need to upgrade your fuse board at the same time. Your current fuse board may not have enough capacity to cope with the additional power demands and circuitry. It is always a good idea to check this early on in the renovation process to avoid any delays and added expense later.  
To meet regulations: If your current fuse board does not meet safety regulations you may need to upgrade it in order to either pass an EICR inspection or to allow other works to take place. 
Signs your fuse board needs to be upgraded
When your fuse board is nearing the end of its life, it will begin to develop faults. These can initially seem to be minor annoyances, but are indicators of a larger, more dangerous problem. 
These faults include:
Flickering or dimming lights
Intermittent power to sockets
Frequent tripping at the fuse board
Burning smell
Hot or sparking sockets
Minor shocks from appliances
Each of these issues suggest your fuse board is no longer effectively protecting you and your home from electrical dangers. If you are based in Herefordshire, make certain to contact us at ElectricsFixed immediately so that our experienced electricians can assess the issue and ensure your safety. 
Who can upgrade my fuse board?
Only a competent and experienced electrician should upgrade your fuse board. A fuse board upgrade is notifiable work, meaning your local building control office must be notified of the work by a registered electrician. An electrician can be registered with either of the electrical industry governing bodies, NICEIC or NAPIT. A registered electrician will also provide you with an Electrical Installation Certificate for your records. This will be needed should you decide to sell your home in the future. ElectricsFixed are proud to be registered members of NAPIT.
ElectricsFixed are your local, reliable electricians in Herefordshire. Based in Shelwick, we cover the towns and villages surrounding Ledbury, Hereford, Ross-on-Wye and beyond. Fully qualified and NAPIT registered, our friendly electricians take great pride in providing an outstanding service. If you need to upgrade your fuse board our friendly, professional team will be happy to help. Contact us today.
Read more articles